NCERT Alternative Academic Calendar for Classes 11 and 12 Released
The Human Resource Development (HRD) Minister Dr. Ramesh Pokhriyal Nishank released an Alternative Academic Calendar for Classes 11 and 12.
The new NCERT Alternative Academic Calendar will help direct teachers on the application of various technological tools or social media tools to teach students remotely from homes.
Scroll down to know the complete details related to new NCERT Academic Calendar for class 11 and 12.
Read the official notification released by the Ministry of HRD (MHRD) and find the direct link for NCERT Academic Calendar at the End of the Blog.
Alternative Academic Calendar for Classes 11 And 12 Out Now
The HRD Minister Dr. Ramesh Pokhriyal Nishank released the new NCERT academic calendar on Wednesday with a series of tweets –
"Released The Alternative Academic Calendar for Classes XI and XII developed by NCERT (@ncert) today! This calendar directs teachers on the use of various technological tools/social media tools to educate students while they are at home. #covid19"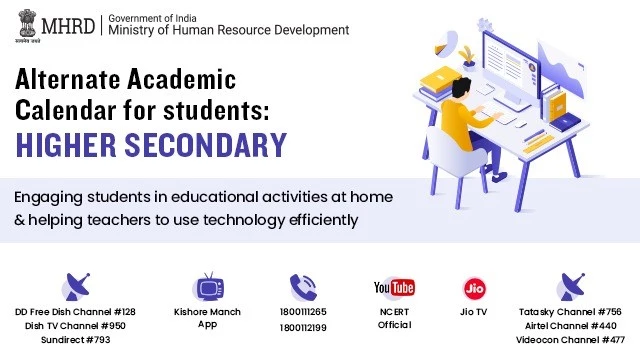 The Minister further added that "The calendar will cater to the needs of all children including Divyang children (Children with Special Need) – link for Audiobooks, Radio programmes, Video programmes, etc. will be included.
This will empower our students, teachers, school principals, and parents to find out positive ways to deal with Covid-19 using online teaching-learning resources and help in the attainment of learning outcomes."
Additionally, Central Institute of Educational Technology (CIET), a constituent unit of NCERT, also tweeted about the NCERT Alternative Academic Calendar –
"Come online, teach your children at home and be safe with Alternative Academic Calendar."
NCERT Academic Calendar
The Academic Calendar has been prepared by National Council of Education Research and Training, NCERT, to ensure smoother academic learning of the senior secondary students amid COVID-19 pandemic.
The calendar has a four weeks study plan; however, it can be extended further, as per the circumstances. The calendar has theme/topics selected from the current syllabus. Each topic is linked to a particular learning outcome.
The calendar also encloses a set of guidelines developed to carry out some interesting and fun educational activities based on the learning outcomes.
The NCERT has also considered the fact that many teachers and parents only have a simple mobile as a tool available at their homes. Therefore, activities are designed in a way that most of the activities can be conducted by the parents and students after speaking to the teacher over the call.
The teachers can get in touch with the students or parents using a diverse range of tools, including simple mobiles to internet-based diverse technological tools as per the availability.
The academic calendar includes both generic guidelines as well as the subject-specific activities. It also has detailed material on the use of different technological tools. Also, it provides tips on reducing the stress in the present time.
It also contains specific guidelines for art education, health and physical education. It also has a subject-specific reference to several learning resources.
Weekly Academic Calendar Covers following subjects –
Science
Biology Class 11 and 12

Chemistry Class 11 and 12

Physics Class 11 and 12

Mathematics Class 11 and 12)
Languages
Hindi Class 11 and 12

English Class 11 and 12

Sanskrit Class 11 and 12

Urdu Class 11 and 12
Social Science
History Class 11 and 12

Political Science Class 11 and 12

Geography Class 11 and 12

Economics Class 11 and 12

Sociology Class 11 and 12

Psychology Class 11 and 12
Fine Arts for Class 11 and 12
Applied Arts for Class 11 and 12
Sculpture for Class 11 and 12
Vocal Music (Hindustani) both for Class 11 and 12
Health and Physical Education: Higher Secondary Stage
Stress Coping Activities
My Values
Implementation of the New Academic Calendar
Towards the proper implementation of the calendar, SCERT and the Directorate of Education may form teams that will include the faculty members from DIETs and School Principals.
These will closely follow-up all the learning progress and can provide support to teachers telephonically or using any other accessible tools.
About the new alternative academic calendar, the Hrushikesh Senapaty, Director, National Council of Education, stated –
"I hope this calendar will be useful for teachers and parents in creating a conducive learning environment at home for students so that they can learn in a very meaningful and joyful manner."
Assessment of the Learners
Since assessment is an integral part of the teaching and learning process, therefore, the academic calendar shares various ways in which learners can be assessed via face-to-face interaction or remotely. "Learners may be motivated for self-assessment, reads the NCERT release."
Given below are the types of assignments that may be shared with the learners –
Multiple Choice Questions

Short Answer Type Questions

Long Answer Questions

Activity Based Questions

Open Book questions
Guidelines for Parents and Students for Using the Academic Calendar
The NCERT has shared "General Guidelines for Implementing the Weekly Plan (for four weeks) for Learners at Higher Secondary Stage". The guidelines are based on the use of the mobile phone as most easily and commonly available tool.
Delineated are the Key Highlights on NCERT guidelines –
Students maybe guided through SMS on mobile phones or via call.

In case the internet is available then active Whatsapp, Facebook, Google Hangout, Google Mail, Telegram, etc., can be created.

Teachers may use audio or video calling

facility

.

Learners may opt to do activities as per their interest, irrespective of the sequence.

Parents may assess the progress of the student by asking questions, encouraging interaction, proposing similar activity, observing the child's interest, etc.

Focus should be on learning outcomes and not the marks obtained.
Guidelines to Cope with Stress
The academic calendar also shares the guidelines to cope with stress and anxiety for students, teachers as well as parents.
Given below are some of the tips shared for class 11 and 12 students in the NCERT Academic Calendar –
Try to have a Routine

Focus on 'Self'

Stay connected

Inculcating positive thinking

Take care of your body

Be informed

Contribute towards the well-being of all beings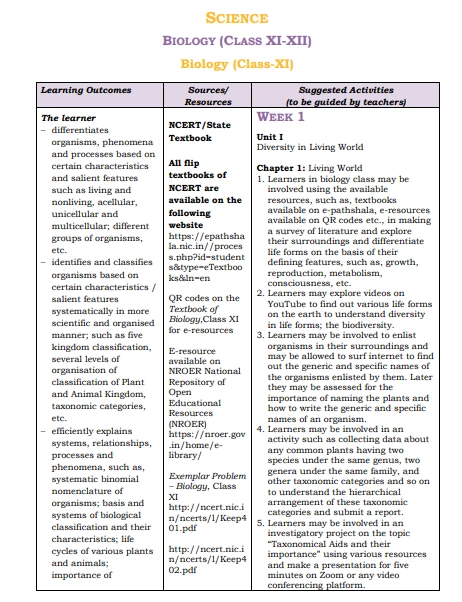 Snippet from NCERT Alternative Academic Calendar
Here is the direct link for New NCERT Alternative Academic calendar – http://ncert.nic.in/aac.html
Earlier, the MHRD also released NCERT academic calendar for junior classes.
To know more read: HRD Ministry Releases Alternative Academic Calendar for Classes 6 to 8
Read also: CBSE 2020: Know How to Change Exam Centre & Eligibility Criteria
Keep visiting Doubtnut for the most authentic and up-to-date info related to upcoming exams.