The Chhattisgarh Board of Secondary Education (CGBSE), Raipur, has postponed all remaining Chhattisgarh class 10 board exams and Chhattisgarh class 12 board exams again, until further notice. Students can check the complete details related to the CGBSE Board Exam 2020 here. The latest public notice released by the board is also given at the end of the blog.
CGBSE Board Exam 2020 Postponed
The CGBSE board exams 2020 has been further postponed after the central government officially announced that lockdown in the country had been extended till 17 May 2020, keeping view of the increasing number of Covid-19 (novel Coronavirus) cases. Earlier, the board announced that the postponed examinations would be held from 4 May 2020 to 8 May 2020, however, now the board has further extended the CGBSE 2020 examination schedule.
Chhattisgarh Board Exams Date sheet 2020 soon
Earlier, there were rumours that the CGBSE Board has decided to cancel the CGBSE 10th and 12th board exams 2020. Students must note that the board exams are postponed but not cancelled, and the CGBSE date sheet for pending papers for 10th and 12th will be out soon.
Also, the board has disproved all claims regarding the exams being cancelled. The CGBSE has released a public notice (given at the end of the article) confirming that the exams will be held at a later date.
The latest CGBSE notice, read –
"As per the announcement made earlier, the examinations for secondary and senior secondary classes were postponed till May and were to be held from 4 May 2020 to 8 May 2020. As there is no certainty that the lockdown won't be extended post-May 3, CGBSE has taken the decision to postpone the remaining board exams for class 10 and 12 until further notice."
Hence, students and parents are recommended not to fall prey of any fake news and instead, only refer to the official website of the board i.e. cgbse(dot)nic(dot)in, while team Doubtnut also keeps you notified on the latest update on Chhattisgarh board exam.
CGBSE Exam Highlights
The CGBSE conducts the state-level class 10 and 12 examinations. The board came into formation on 20 September 2001, headquartered in Raipur. It conducts High School, Higher Secondary and Diploma courses level examination in the state.
The board conducts class 10 and 12 exams in March. As per the previous year's data, CGBSE conducts board exams for more than 8 lakh students, every year.
Tabulated below is the overview of Chhattisgarh Board of Secondary Education:
| | |
| --- | --- |
| Particulars | Details |
| Board Name | Chhattisgarh Board of Secondary Education |
| Founded in | 2001 |
| Exam Level | High School / Intermediate / Matriculate / class 10th |
| Mode of Exam | Pen and Paper Mode |
| Frequency of Conduct | Once a year |
| Duration of exam | 3 Hours |
| Date for Pending Class 10 Exams | To be notified soon |
| Date for Pending Class 12 Exams | To be notified soon |
| CGBSE board result 2020 | To be notified soon |
| Official Website | cgbse(dot)nic(dot)in |
Furthermore, there has been no change in the CGBSE syllabus and marking scheme. To know the CGBSE class 12 syllabus and exam pattern, Read – Chhattisgarh Board 2020 Class 12 Syllabus & Exam Pattern
Apart from Chhattisgarh board, there are more than 12 state boards whose examinations were postponed due to the perilous Covid-19 pandemic and subsequent country-wide lockdown. Moreover, the students of classes 1 to 8 have been promoted directly, and students of classes 9 and 11 are promoted to the next grade based on internal examination, by most of the state boards and Central Board of Secondary Education (CBSE).
Chhattisgarh government too had promoted all the students from classes 1 to 8 and classes 9 and 11; however, class 10 and 12 examinations are postponed, till further notice. With the board exams scheduled for the end of May, it is quite evident that the CGBSE Board result 2020 will be delayed as well.
According to the Ministry of Health and Family Welfare, Chhattisgarh has 43 cases of coronavirus as of 2 May 2020 (5 pm). However, there have been no causalities in the state due to the deadly virus, while 36 patients have been Cured/Discharged/Migrated.
Meanwhile, the CBSE board has also issued a clarification on Pending Class 10 and 12 Board Exams. The board will conduct the CBSE class 10 and 12 board exams "at the first possibility". Previously, CBSE has shared the list of 29 Key subjects for which the exams will be held, and are essential for admission in higher education institutions.
Read the complete details: CBSE Board Exam 2020 to be Held for Only 29 Main Subjects
Also, Read: CBSE Issues Clarification on Pending Class 10 and 12 Board Exams
Study at Home with Doubtnut
Currently, all schools across the country have been closed since mid-March when the central government announced a country-wide shut down to stop the spread of coronavirus. Since exams are currently postponed, students should continue their board exam preparation at home. If you need study material like NCERT solutions and previous year question papers, then you can also install the Doubtnut App.
With Doubtnut Mobile App, you can learn anytime anywhere on your mobile and enjoy the freedom of learning at your own pace. It has everything you need to study at home and is 100% FREE. Also, you can play daily "Go Corona Contest" and win exciting cash prizes too!
Given below is the newest public notice released by the board regarding class 10 and 12 board exams.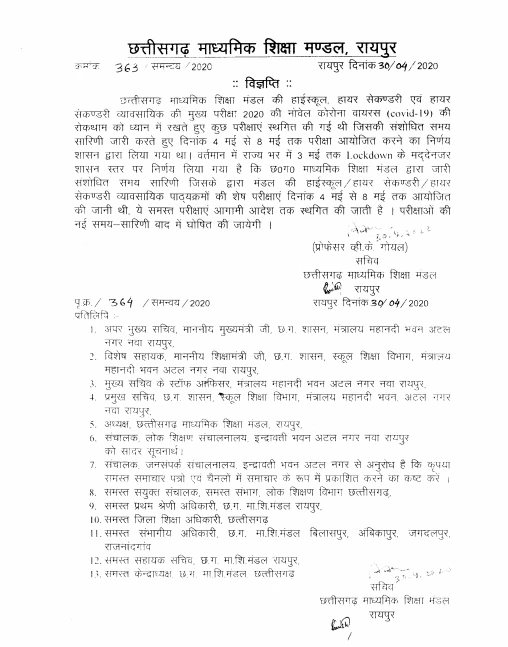 Stay tuned with Doubtnut for Latest Update on Chhattisgarh Board Exam, Chhattisgarh Board Exam News and more.