Bihar School examination board (BSEB) has recently released the revised date sheet for 12th Class (Inter) sent up exam 2020-2021. BSEB intermediate (All subjects) sent up/ pre-board exam for the academic year 2020-21 will commence from 11th November 2020 to 19th November 2020. Earlier, Bihar Board Sent Up exam was scheduled to be conducted from 15th October to 5th November 2020. Now the Sent Up exam will finish on 19th November 2020.
BSEB Sent Up Exam 2021 Subject List
As already mentioned above that the Science/ Commerce and Arts domain, (I. Sc. / I. Com./ I. A) sent-up exams will be held from 11th November 2020 to 19th November 2020. Below mentioned is the list of subjects for the Sent Up exam 2021.
Science

Commerce -Accounts, Economics, Business Studies

Entrepreneurship

Physics

Hindi

Philosophy

Chemistry

Sociology

Music

Maths

Political Science

Physical education

English

Geography

Elective Language- Urdu,

Arabic,

Bhojpuri, Maithili,

Sanskrit

Optional- Computer Science

History
Revised BSEB Sent Up Exam 2021 Time Table
BSEB Sent Up/Pre-Board exams are conducted in two shifts, the first shift timing is 9:30 AM to 12:45 PM, and the second shift timing is 1:45 PM to 5:00 PM.
BSEB has not released a timetable for the revised date sheet online at the official website biharboardonline [dot] bihar [dot] gov [dot] in. The revised timetable for BSEB 12th Sent Up Exam 2020-21 (all subjects) is published in a newspaper. The image of the newspaper cutting is depicted below.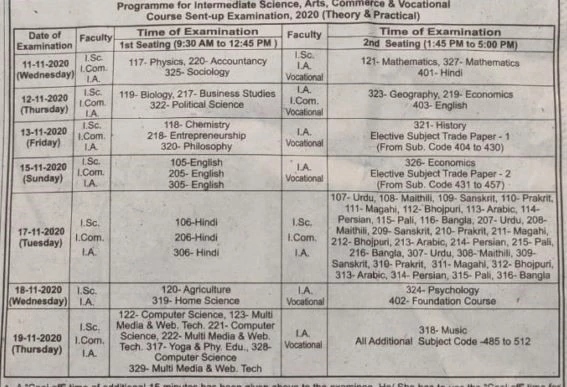 For ease of referencing, we have provided the Sent Up exam 2021 timetable for theory exams. Students can check the schedule for their respective exams.
Exam Date

Shift 1

Shift 2

9:30 AM to 12:45 PM

1:45 PM to 05:00 PM

11 Nov 2020

117-Physics
220- Accountancy
325-Sociology

121- Mathematics
327- Mathematics
401- Hindi

12 Nov 2020

119- Biology
217 -Business Studies
322- Political Science

323- Geography
219- Economics
403-English

13 Nov 2020

118- Chemistry
218- Entrepreneurship
320-Philosophy

321- History

14 Nov 2020

105-English
205-English
305-English

326-Economics

17 Nov 2020

106-Hindi
206-Hindi
306-Hindi

107- Urdu, 108- Maithili
109- Sanskrit
110-Prakrit
111-Magahi
112-Bhojpuri
113-Arabic and

Other language Subjects

18 Nov 2020

120-Agriculture
319-Home Science

324- Psychology
402- Foundation Course

19 Nov 2020

1222- Computer Science
123- Multimedia & Web Tech,
221- Computer Science,
222-Multi Media & Web. Tech
317- Yoga & Phy. Edu
328- Computer Science
329- Multi Media & Web . tech

318- Music
All other Subject with

subject code 485 to 51
Bihar Board Sent Up Exam 2021 Question Paper
The current academic year (2020-21) will be the first time when BSEB will set the Sent Up exam question paper. BSEB will conduct only the theory exams for now. The dates for practical sent up exam is not announced yet; however, BSEB will conduct the practical Sent Up exams soon.
There will be no fee charged from the students for the Sent Up exam question paper. Students who pass the Sent Up exam 2021 will be allowed to appear in the annual Bihar board intermediate exam 2021. The question paper pattern of the BSEB Sent Up exam will be similar to the Bihar board Class 12th annual exam. With the same question paper pattern in both the exams, students have the advantage of gaining an idea of Bihar board annual exam through Bihar board Sent Up exam.
Bihar board Sent up exam is conducted in the same school where a student has been admitted to originally. It is the reason students do not take it seriously; however, to sit in annual board exams, one must pass in the sent up exam, which is considered a pre-board exam. Schools will send the list of absentees, failed and passed students to the Bihar board.
Covid Instructions for BSEB Sent Up Exam 2021
BSEB Authority has strictly directed all the District Education Officers in the state to follow the social distancing guidelines as well as COVID-19 safety measures while conducting the exam safely in various school premises, which includes the sanitization of the classes before the exam and mandatory to wear a mask during the exam.